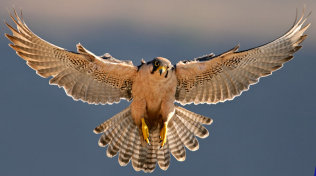 Copyright © 2008-2011 by Shawn H. Smith. Backward State is a trademark of Shawn H. Smith. All rights reserved.
TM
Home
Contact
Examples
Links
Uses
Home
Uses
Examples
About
Contact
Links
Brackets [ ] indicate where the reversal occurs. Click on the reversal to hear the mp3.
CNS News.com 11-15-10
(Reporter: On the pat downs, C.A.I.R. has recommended that Muslim women wearing hijabs refuse to go through the full body pat downs before boarding planes. Will you insist that they do go through full body pat downs before boarding planes?)
[Look we have uh, uh like I said before we] are doing what we need to do to protect the traveling public. And adjustments will be made where they need to be made. With respect to that particular issue I think there will be more to come.
A wolf in the secular are valuable.
(What do you think she means by this reversal? A hijab conceals a person's head and neck from view. Could "wolf" be applied as a person who conceals his or her evil intentions or character beneath an innocent exterior? "Secular" pertaining to worldly things or to things that are not regarded as religious, spiritual, or sacred.)
11-22-10
The person who sees the image is not even at the gate where you go [through. So let's not] presume that the A.I.T.'s are not themselves protective of privacy.
This is just the next generation of travel security. Now, there are other mechanisms in place and uh [we can use those] as well.
(Swords used here may mean: mutually antagonistic or hostile
. Appears there is more search procedures the TSA intends to use of which she knows the public is not going to like.)
Janet Napolitano - Homeland Security Secretary